All news
Semlex offers a first enrollment bus to ONECI
23 December 2021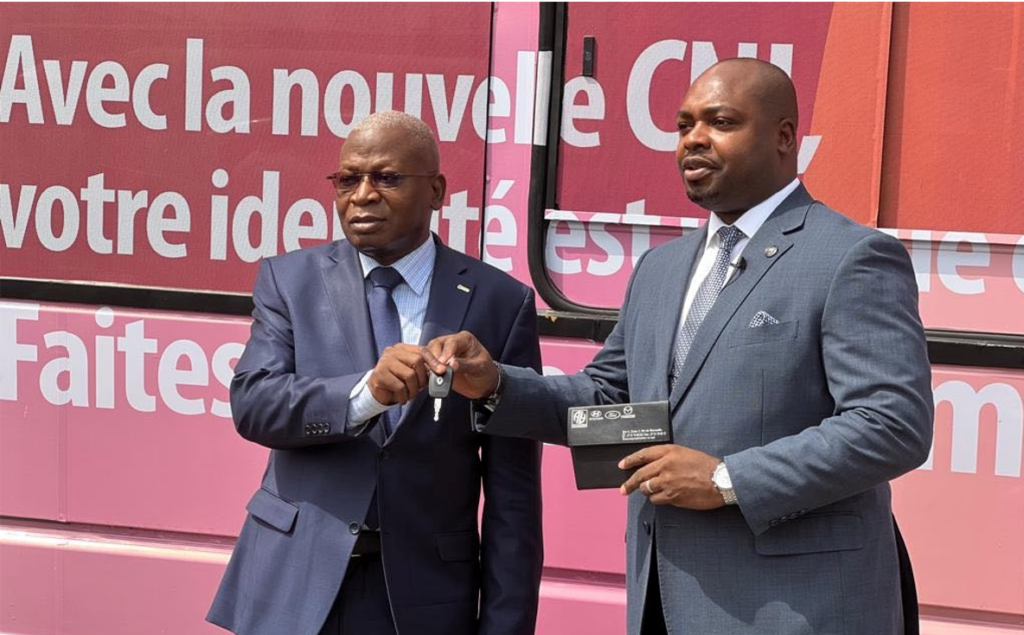 Semlex, the technical partner of ONECI since April 2019, has decided to offer a first enrollment bus to ONECI. On December 21, 2021, the ONECI Director General, Kafana Gnénin Sitionni, received the keys to the vehicle from Favier Kouame, PCA of Semlex Ivory Coast.
This token gesture aims to support the Ivory Coast in registering its entire population. This first mobile enrollment unit will not only increase the support capacity of citizens, but also reach landlocked populations a few weeks before the end of the validity of the national identity cards issued in 2009. Three other buses will also be offered by Semlex.
According to the Director General of ONECI, "this bus will help streamline the queues while contributing to the satisfaction of our petitioners. We invite people not to hesitate at the sight of this mobile enrollment station to come closer to inquire about the production status of their card or even to be enrolled" (KOACI, 2021).
The ONECI PCA also added that "the purpose of this operation is to honor our commitment to increase the additional means of equipment to be deployed and that is why, SEMLEX, through this donation, provides the ONECI partner with a first bus. This act, beyond its symbolism, clearly represents the implementation of an appropriate response in favor of increasing the additional operational resources of our partner" (KOACI, 2021).
See the pictures of this ceremony below:
Source :
KOACI (2021). « Côte d'Ivoire : Rapprochement du dispositif plus près des populations, l'ONECI se dote d'un bus d'enrôlement offert par son partenaire SEMLEX, trois autres véhicules attendus ». Article available HERE